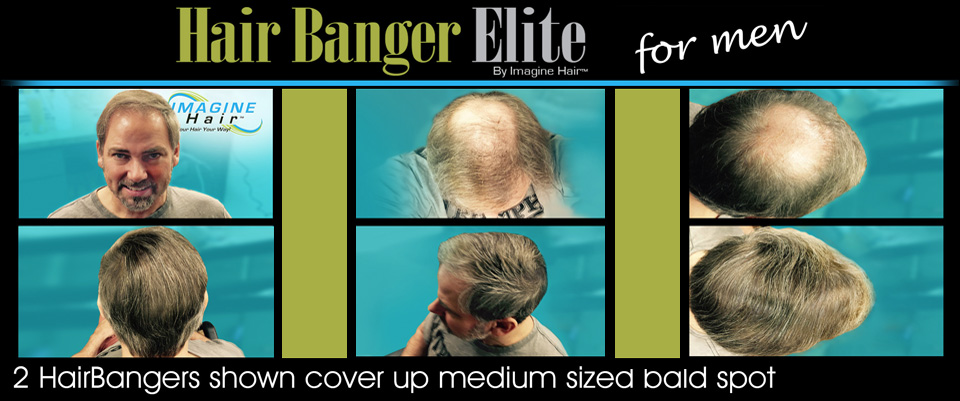 OK, so what is a Hair Bangers™ you ask?   It's a unique filler for those who are balding, have thinning hair, and do not want to buy expensive wigs, hair systems or hair transplants procedures….or just want to temporarily change hair style and have some fun.  It's truly a do-it-yourself makeover that you can quickly do at home.  It's really easy.
Hair Banger™ is a 4″ wide x 6″ long human hair clip-in that can be used for thinning areas or to add volume.  It is also designed to allow you to add bangs to the front without having to cut your own hair.  Plus, it can be used for accenting and just having some fun with different colors and styles to match your mood or the occasion.  Some customers buy more than one Hair Banger™ to get the fullness, style and colors they want to achieve.
Cover Thinning Areas  *  Cover Bald Spots  *  Add Bangs Just for Today
Unique Features
Discreet – They're small, easy to put on and blend in. 3″-4" wide x 6" long.
Instant – Special easy-t0-use special clips to hold them tight in place all day.
Add Fullness – Use it to add volume, color or highlights to your hair.
Comes in 38+ colors, including hard-to-find salt-N-pepper and solid gray.
Specialize in Grays – We have a special gray line, our Hair Bangers ELITE.
Opposing clips so you can wear it facing any direction.
Invisible – no embarrassing, big & bulky, out of place looks.
Imagine Hair Banger is the only one with 100% human hair.
Color it, cut it, and style it to blend invisibly into your own hair.
Use just one, or several overlapping to achieve the coverage and volume you want.
Fits anyone, even young teenagers and small children.
So Easy!  Just do it yourself at home in minutes.
Young teenagers and small children have smaller forehead and scalps.  There is nothing on the market for them to add fullness volume or bangs without cutting their own hair.  With Hair Bangers, they can also add fun colors without the commitment of permanent change!
It's as easy as Select, Clip in, Style, and Go! 
We have all colors, including impossible-to-find 100% human Gray hair.

Hair Bangers™ is a Trademarked product and is Patent Pending